One reason AR-15 rifles are very popular today is due to the fact that they are very modular and their parts can be easily exchanged and upgraded. Due to this modularity, they are also easy to custom build from a receiver or to purchase the lower and upper halves separately and put them together.

Purchasing a complete rifle manufactured at our factory has many benefits over purchasing just parts. With a complete rifle you receive a lifetime warranty, infinite shot barrel guarantee, rifle case, gun lock, magazine, manual, warranty card, and we match the upper and lower for fit and finish. If the parts are purchased separately and the rifle is not built at our factory, there is only a one year warranty and you don't get the benefits listed above.


Buyer Beware
A vast majority of firearm dealers have impeccable integrity but some unscrupulous dealers will buy AR-15 parts from manufacturers, assemble them together, and sell them as complete rifles. They are in fact tricking the customer into thinking they are purchasing an authentic factory rifle. They do this because the excise tax on complete firearms is not charged on parts.
When a dealer puts the rifle together in the eyes of the ATF they are technically the manufacturer of the firearm, and are required to possess a manufacturing Federal Firearms License (FFL). Additionally, they are required to pay the excise taxes on the firearms they manufactured but unfortunately, not all dealers adhere to the ATF regulations and tax laws.
Legal private citizens without a FFL can build their own personal rifles from receivers and lower halves "for their personal use, not for sale or distribution." These private citizens may later sell these firearms without an issue if they decide they don't want them anymore and they are not subject to excess taxes.
What to Look for in Stag Arms Factory Assembled Rifles:
1. Inspect the rifle case: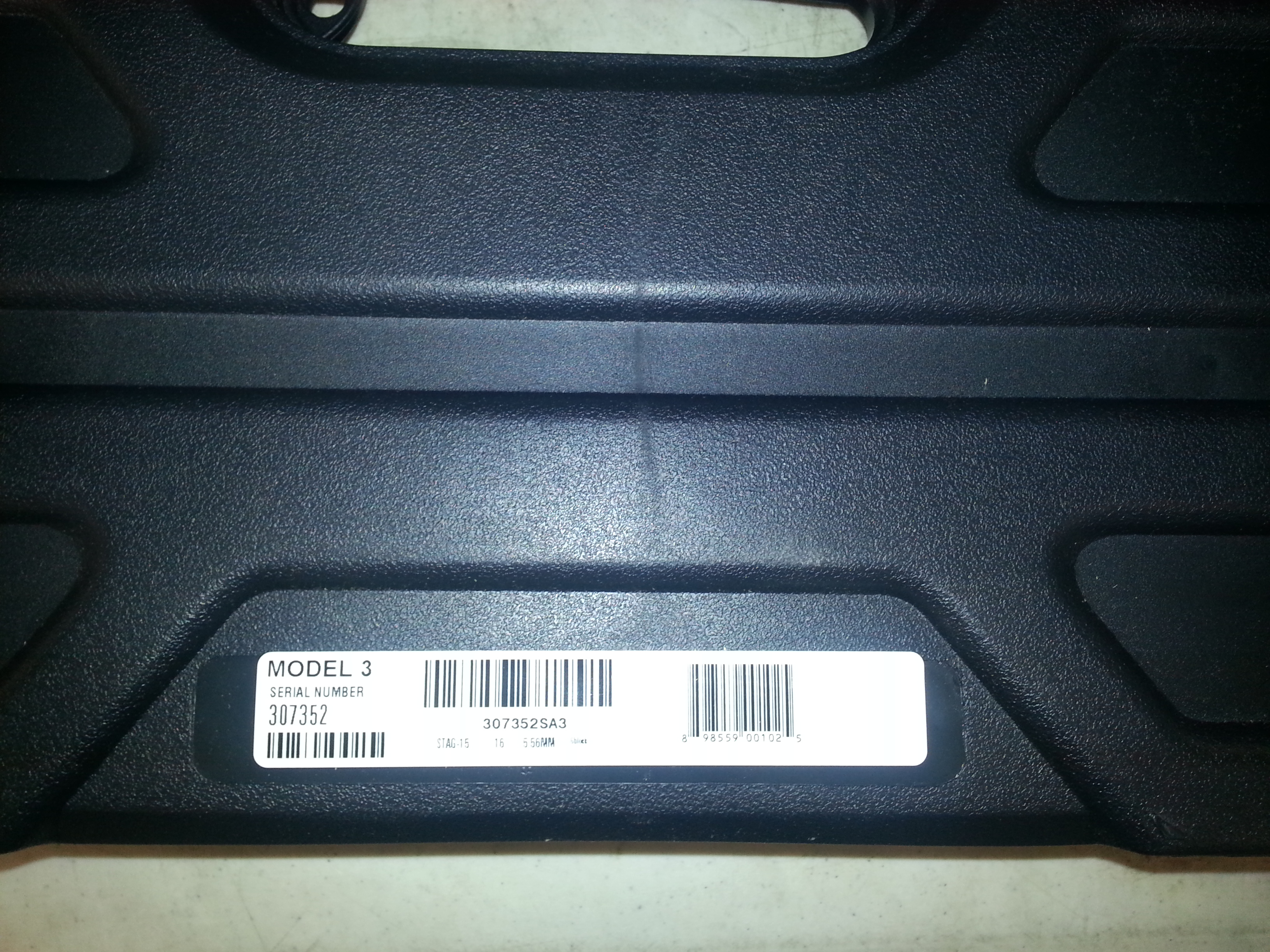 • All of our factory manufactured rifles are shipped in plastic rifle cases. Ask to look at the case and find the manufacturer sticker. This sticker is only included with complete rifles manufactured at our factory and will include the rifle model, serial number, and UPC code. If the serial number on the sticker matches the rifle you are purchasing then you can guarantee it shipped from the factory as a complete rifle.

• If the rifle isn't given to you in a plastic rifle case or is in a cardboard box like the ones in the picture below, the rifle you're purchasing most likely didn't ship from our factory complete and was technically "built" or manufactured (according to the ATF's definition) by someone else.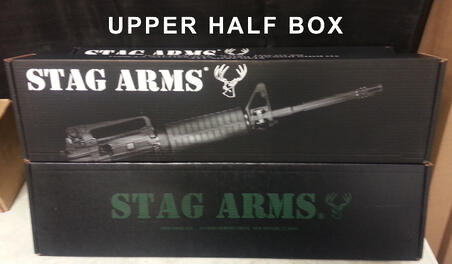 2. Look closely at the accessories:

• Every factory manufactured rifle is shipped with a magazine, manual, gun lock, catalog, and warranty card.

• The most important thing to look for is the warranty card which explains the Stag Arms Lifetime Transferable Warranty & Infinite Shot Barrel Guarantee. These are only included with factory manufactured rifles. If the warranty card states "NON-RIFLE WARRANTY CARD" at the top, the rifle you are purchasing most likely was not manufactured in our factory.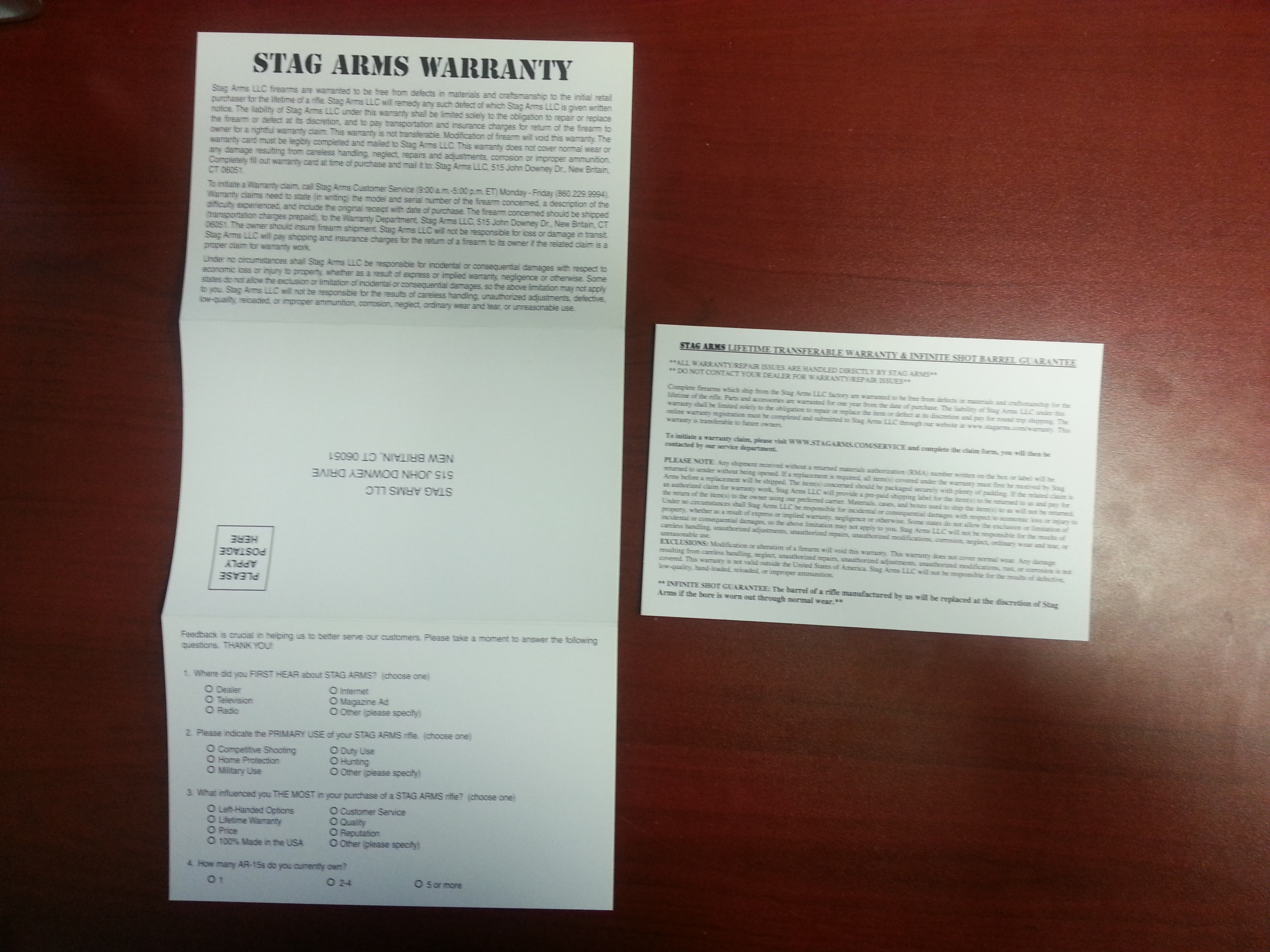 • NOTE: We had an older version of our warranty card which had three sections and these were only included with complete rifles.

3. Look at the barrel: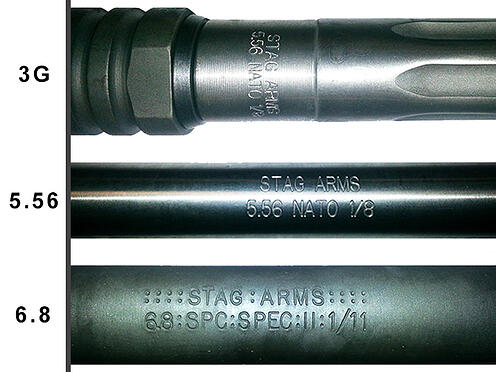 • Look at the top of the barrel between the front sight and the muzzle. We engrave STAG ARMS, the twist rate and the caliber designation on each one. This is a very good indicator that, at minimum, the upper half was manufactured by us. However, please be aware it is still possible that the upper half and lower half were purchased separately and put together after leaving the factory.
Contact our Factory
• If you ever are unsure about a rifle you are purchasing, we will be more than happy to research the serial number and provide you the configuration in which your serial number shipped from the factory along with the date that it shipped. We can be contacted through our form on the website or by calling 860-229-9994 x3.

For more information about firearm manufacturing from the ATF, Click Here.