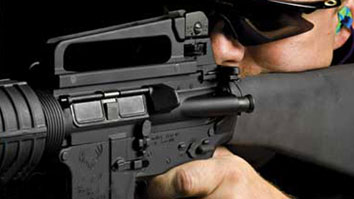 The .22 LR conversion kit for the AR-15 from Stag Arms enhances your shooting enjoyment, knowing that each pull of the trigger is costing you less than a nickel, not forty cents.

This thoughtfully designed and carefully manufactured conversion kit is easily installed into and removed from any AR-15.

Giving you a cost savings of about $.35 per cartridge over the standard .223 round, the Stag Arms .22 LR conversion kit pays for itself after a few trips to the range. (White box of 20 Federal .223 rounds for $8.15. Box of 1000 Winchester .22 LR rounds for $48.37. Comparison based upon current Wal-Mart prices.)


Ease of Installation
Available in right-handed or left-handed versions, the 22 LR conversion kit slips right into AR-15 rifles:
Push out the rear take down pin

Slightly pull charging handle back

Remove the bolt carrier group

Insert the .22 LR Rifle Conversion Kit.
A special .22 LR magazine is required for the AR-15 with the conversion kit. These are able to be purchased directly from Stag Arms in both 10 round and 25 round configurations.
Other Advantages of a .22 LR Conversion
A .22 LR conversion has advantages beyond cost savings. The lack of distracting recoil and noise from the smaller cartridge makes it a great way to break in new shooters letting them to focus on trigger control. For more advanced shooters it assists them with learning and perfecting double taps, hammer pairs and zipper drills. The .22 LR can also be used in competition AR-15's for practice of up to 50 yards without sacrificing accuracy.
Adjusting for Differences between the .223 and 22 LRs
Typically, the 36 grain copper jacket .22 LR will strike the target with a two inch group at 50 yards and a few inches lower than a .223 round. A quick adjustment to the AR-15's standard sight will quickly compensate for the difference.
To see the Stag Arms .22 LR Conversion Kit being installed and put into action, watch this detailed video:

Lifetime Warranty
Our .22 LR Conversion Kit is manufactured by us here in the United States and is covered by a Lifetime Warranty.

Image Courtesy of: Americanrifleman.org