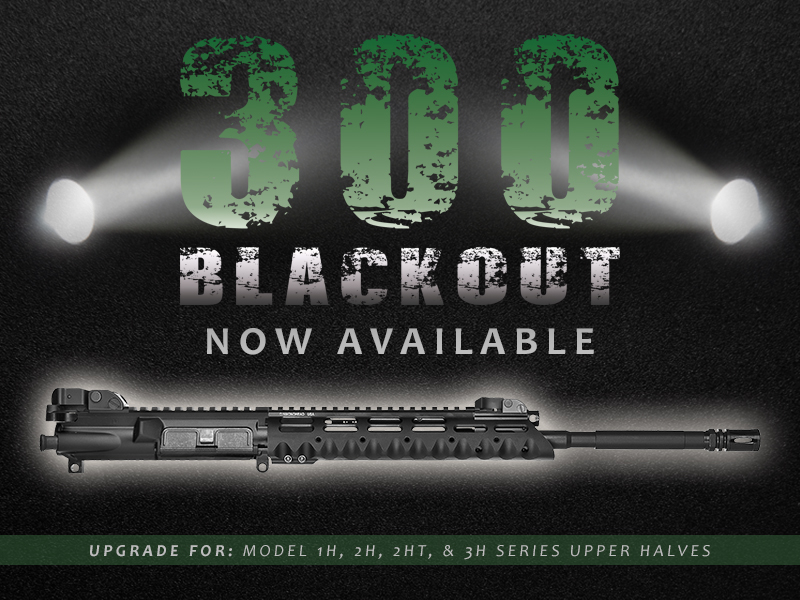 Stag Arms is proud to release its 16 inch AR-15 carbine upper halves in the popular 300 AAC BLK / 7.62 x 35mm caliber. The company had researched and tested many different cartridges on the AR-15 platform before making a final decision.

Stag Arms president Mark Malkowski stated "A cartridge with a heavier bullet, great ballistics, and already on the shelves of most major stores in the AR-15 platform is ideal for our customers. With only the barrel, crush washer, and muzzle device different than a standard AR-15, customers can still use their favorite accessories."

The upper halves of the Model 1, 2, 2T, and 3 series can now be purchased in the 300 Blackout caliber for an additional $50.00. The barrels are 16" long and manufactured from 4140 steel with chrome lining on the inside to increase durability. The 1/7 twist rate is designed to work with all bullet weights in the caliber and the barrel thread for the muzzle device is 5/8 x 24.

The supersonic 300 AAC Blackout cartridge was designed to closely match the ballistics of 7.62 x 39 ammunition with a minimal number of non-interchange parts compared to a 5.56 NATO AR-15. To decrease the feeding issues that occurred with 7.62 x 39 ammunition on the AR-15 platform, the cartridge case was derived from the U.S. Military 5.56 NATO case and will work with standard AR-15 magazines while retaining their original ammunition capacity.

Stag Arms sales representatives can be contacted directly via phone at 860-229-9994 extension #1. Additional information can be found by visiting www.stagarms.com.