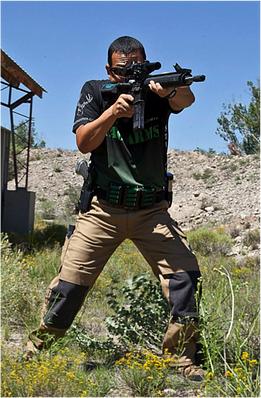 Team Stag Arms' Kalani Laker and Jesse Tischauser fought through the wind, rain, and over 225 competitors in the Tactical Optics Division this past weekend to finish 3rd and 6th respectively at the Fallen Brethren 3-Gun Championship held at the Spartan Tactical complex in Jacksboro, TX.

Laker posted a blazing fast stage win on the last stage of the match securing his spot in the top three. "Jim Smith and his crew at Spartan Tactical challenged us this year with a lot of long range rifle, pistol, and slug targets" stated Laker. "Stage 3 was a speed shoot with the pistol followed by 12 mid-range rifle targets tucked into the natural vegetation. I cruised through the pistol portion of the stage and settled in behind my Stag Arms 3G and went to work. I had been on all weekend with the rifle and things came together perfectly on the last stage. Pulling out stage wins in this group of shooters is no easy task".
After a slow start on the first stage of the match, Tischauser took a stage win on the second to last stage, pulling himself back into contention. "The field was stacked with some of the top shooters in the game. When I picked up three penalties in our first stage I knew I had to let it all hang out to put myself back in the match. I have to give my Stag Arms 3G and my Swarovski Z6i credit for the stage win. The two long range and seven mid-range rifle targets on that stage were setup to suck you in and make you shoot too fast. The wide field of view in my scope and the minimal recoil on my 3G allowed me to make quick work of the tricky shots and wide target transitions," remarked Tischauser.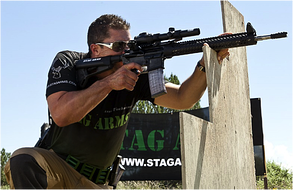 Next up for Tischauser is the 2nd annual Mountain Valley Sportsman's Association Multi Gun Melee near Hot Springs, AR. Laker and Tischauser will team up again later this month at the 2nd annual night time Walking Dead Multi Gun Championship in Cresson, TX.
Stag Arms was founded in 2003 with the goal to manufacture reliable, 100% American made competitively priced Mil-spec AR15's. Since then, we they have quickly become a market leader and one of the largest manufacturers in the United States. Click through for more information about Stag Arms shooters, products, media and events.

Don't forget to check out the video: Fallen Brethren 3-Gun Championship