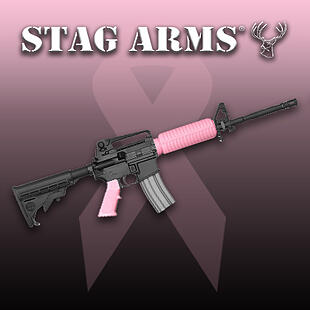 Stag Arms, one of the nation's largest AR-15 manufacturers is working to raise funds and increase awareness for the National Breast Cancer Foundation through the end of October.

In honor of Breast Cancer Awareness Month, Stag Arms will offer several of their most popular rifle models – Models 1, 1L, 2, 2L, 5, and 5L – as well as their upper halves - with carbine style thermoplastic pink handguards and pistol grips.

"Many of our friends and families have been impacted by breast cancer and we want to support the National Breast Cancer Foundation in any way we can," said Mark Malkowski, President of Stag Arms.

"We are excited to expand the Go Pink for Breast Cancer campaign within our product line and hope to raise as much money as we can for breast cancer awareness."

The cost for the upgrade is $20.00 and will be installed onto the product(s) purchased. In the case of upper halves, the pistol grip will be included with the shipment for installation by the customer. All proceeds from the upgrade will be donated to the National Breast Cancer Foundation.
About Stag Arms
Founded in May of 2003, Stag Arms LLC is one of the national leading manufacturers of rifles and rifle components. What began as a sister company to a corporation with over 30 years experience manufacturing Aerospace and rifle parts, Stag Arms has grown into a nationwide phenomenon with the introduction of their Stag 15L – the world's first true left handed rifle of its kind. Stag Arms has since grown into one of the largest AR-type manufacturers in the world.
About the National Breast Cancer Foundation, Inc.(R)
Recognized as one of the leading breast cancer organizations in the world, the National Breast Cancer Foundation's (NBCF) mission is to save lives through early detection and to provide mammograms for those in need. A recipient of Charity Navigator's highest 4-star rating for nine years, NBCF provides women help for today and hope for tomorrow through its National Mammography Program, Beyond The Shock®, Early Detection Plan, MyNBCF online support community, and breast cancer research programs. For more information, please visit nbcf.org.