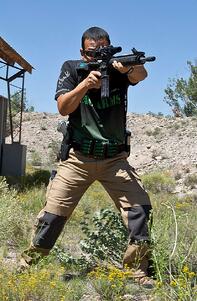 Team Stag Arms' Jesse Tischauser and Kalani Laker have been lighting up the 3‑Gun circuit late in the season. This past weekend at the 2nd annual Walking Dead Multi Gun Night Match in Cresson, TX was no different. "This year's match was even bigger and better than in 2012. The match went from a 2 gun rifle/pistol affair to a full throttle seven stage 3-gun championship in 2013. With over 150 competitors in attendance, match director Jeff Chase has turned his match into the largest night match in the country.


Kalani Laker
Laker bested the field of 150 plus Saturday night grabbing the overall match victory. "I think I am getting the hang of this shooting in the dark thing," Laker chuckled. "It is so much harder than shooting during the day but it's also so much more fun too.

I have to give credit to our primary sponsor, STAG Arms. I have not had one rifle problem all year long, and my rifle shooting has carried me through each match this season. Streamlight's lights and lasers make shooting at night a lot easier and way more fun. I put the new Streamlight TLR-1 HP and TLR-2G on my STAG Arms 3G and it was lights out for everyone else, literally."


Jesse Tischauser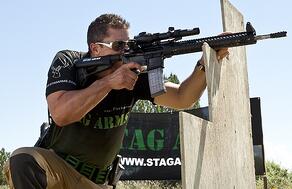 Tischauser posted wins on stages one and two on his way to a 3rd place finish. "I got a hot start, winning our first two stages. I won those stages because of the Streamlight TLR-2 HL's that I have hanging off of my Stag 3G, Accurate Iron pistol, and shotgun."

"I can actually shoot my guns faster at night than I can during the day with the combination of the extra white light from the HL and the red beam from the laser.

"It almost makes it feel like I'm cheating especially when I'm shooting around corners and in tight spaces where proper grip and stance can't always be accomplished," Tischauser explained.


Team Stag Arms
The match was delayed for 2 hours as lightning and torrential rains came through the area. As a result of the rain delay and a flooded set of bays, one stage was completely thrown out of the match. On top of that only half of the competitors got to shoot the TNVC prop gun stage that had competitors wearing a night vision optic while shooting a .300 Blackout AR15 and a 1911, both of which were suppressed and equipped with infrared lasers.

"Thankfully we got to shoot the prop gun stage with the suppressors and night vision gear. There is a whole bunch of cool new toys that sponsors bring to these night matches. It makes for a lot of smiling faces no matter what your score ends up being at the end of the night," noted Laker. "That huge smile I had on my face after hosing down some steel with the NVG and IR guns didn't last long. I came out after the rain delay and did poorly on the first stage and took a penalty on the second. I ended up finishing four seconds behind Kalani after the five second penalty. It is truly amazing how consistent Kalani is. He just puts down a top run after a top run without ever having that bad stage that everyone else seems to have. That's why he is one of the best in the game. It is really impressive to watch," Tischauser said.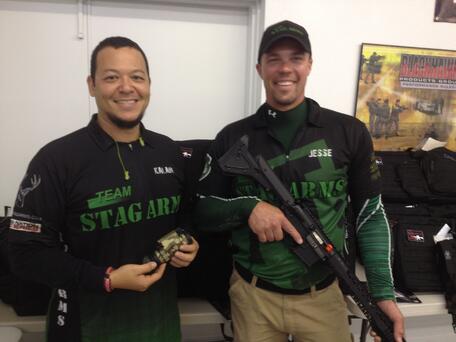 What's Next?
Up next for Team Stag Arms is the inaugural U.S. Carbine Association 2 Gun National Championship near sunny Daytona Beach, FL.

Stag Arms was founded in 2003 with the goal to manufacture reliable, 100% American made competitively priced Mil-spec AR15's. Since then, they have quickly become a market leader and one of the largest manufacturers in the United States.