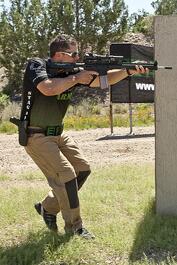 Former Army Staff Sergeant and current Team Stag Arms member, Jesse Tischauser took the overall win shooting out of the equipment restrictive Law Enforcement/Military Division at the 2013 US Carbine Association (USCA) National Championship on November 15-16th, 2013.

Tischauser posted the lowest overall match time, 252.47 seconds, with only 10 seconds in penalty points to win the LEO/MIL Division by over 29 seconds. The overall match was decided by much less. Only 5.36 seconds separated Tischauser from the top shooter out of the very competitive Open division.


New Rules and Challenges
"This match presented a new set of rules and challenges which made it really fun and exciting. The LEO/MIL division didn't require shooters to be active in law enforcement or the military, but it did require us to use equipment that is more in line with what is currently used by LEO/MIL in the line of duty. So, I picked up a new WRS duty holster from Blade-Tech. Similarly, I had to ditch my high speed 9mm 3 gun pistol and use my CZ SP01 Shadow equipped with a Streamlight flashlight for the low light shoot house. We weren't allowed to use the higher capacity magazine extensions either which had us reloading the pistol much more often.

"On the rifle front, I just received a new Stag Arms 3G for the 2014 season. I literally put a red dot on it, zeroed it, tightened down the flashlight, put it in my Patriot Case, and got on an airplane headed to Florida. It is awesome how 'out of the box' ready the Stag 3G is for a competition and just about anything. As with the pistol, we weren't allowed to use the extra capacity magazines, so we did a bunch of magazine changes and magazine retention just like LEO/MIL train for," stated Tischauser.


USCA Match Proves Successful
In just eight short months, USCA creators turned a dream into reality. The match was a huge success with seven challenging stages, a bunch of great companies sponsoring the match in attendance, and top shooters from around the country battling it out for the first USCA National title.

"The whole time I was shooting, I couldn't help wishing I had found this sport 15 years ago when I was still in the Army," Tischauser commented. "Not only would it have made my father who was a Vietnam veteran proud, but it would have helped me become 10 times the marksman I was when I was enlisted. Hopefully more of our active and former LEO/MIL members come out and start enjoying the 2nd Amendment freedoms they help protect by shooting with us at these USCA matches."


What's Next?
Team Stag Arms' Jesse Tischauser has one big match left on the schedule this year, the South Eastern 3 Gun Championship on December 5-6th, before he heads off to Las Vegas for the annual SHOT Show convention to compete in the 3 Gun Nation $50,000 season finale shoot off. "I am really bummed that the season is winding down, because I am shooting better than ever right now. Picking up the win in Florida is just the confidence booster I needed heading into the big dance in Vegas," remarked Tischauser.

Stag Arms was founded in 2003 with the goal to manufacture reliable, 100% American-made competitively priced Mil-spec AR-15's. Since then, they have quickly become a market leader and one of the largest manufacturers in the United States.

For more information on the US Carbine Association and its upcoming events, visit http://www.uscarbineassociation.com.