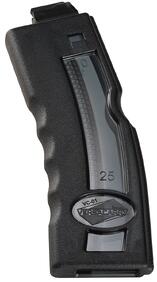 Stag Arms' new versa-carry, 28 round, .22LR magazine has numerous features designed to appeal to shooters. Engineering did not take a back seat during the development of this durable and unique accessory which is designed for years of use at the range.

Manufactured to fit any M-16 or AR-15 rifle that is fitted with a Stag Arms' .22LR conversion kit, the versa-carry, 28 round capacity, .22LR magazine provides the user with dependable versatility in the operation of their firearm. When it comes time to go for that .22LR conversion, Stag Arms has the accessories to keep your new purchases working effectively.


Reload the Magazine with Confidence...
Composed of polymer material and delivered in a black finish, the magazine provides added Tactical Finger Relief to assist with inserting and removing the magazine. An exceptionally helpful feature is the window in the side of the magazine that lets you see how many rounds remain.

The magazine works well with popular ammunition manufactures including: Aguila, CCI, Federal, Winchester, and others. The reliable sonic welded feed lips minimize chances of mis-feeds, while the bolt hold-open feature on the last rounds alerts the shooter that it is time to slap another magazine in.

Delivering Excellence for a Decade...
Founded in 2003, Stag Arms has been dedicated to the goal of manufacturing 100% American-made firearms and accessories at competitive prices for the past decade. Their in-house manufacturing team manufactures 80% of their rifle parts within their own facilities, and the remainder, mainly small springs and plastic components, are outsourced to other quality American-made companies.

These production arrangements allow for the delivery of quality firearms at the most competitive prices. Not only have they become a market leader and one of the largest gun manufacturers in the United States, but they have also organized their own Stag Arms Shooting Team designed to showcase their firearms capability.