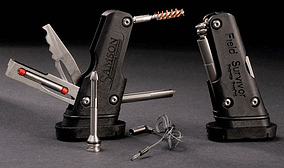 Out in the field or on the range, it pays to be prepared. Nothing puts the brakes on an enjoyable time like a small performance snafu in the form of a broken shell or an overload of carbon. Packing the Samson Field Survivor ensures that preparation is complete in order to take care of those little emergencies that tend to crop up.

Much more convenient than a gear kit that hangs on a belt or needs to be stored in a pack, the Samson Field Survivor keeps everything right in the palm of your hand. Designed with a stainless steel mechanism that is patent pending, this multi-tool system stores right in the pistol grip of a standard A2 or a Hogue AR Rev 2 grip. Quick and easy to use while on the move or hunkered down low, simply put it inside the base and twist it to lock into place.

Think of the Samson Field Survivor as being the Swiss army knife for the gun set. Virtually every tool that might be needed for a quick repair or maintenance job is right there. With plenty of room for clearance, each tool easily pulls out of its storage slot to facilitate ease of use. Each tool stores flush against the base for a streamlined effect that reduces its size.


TOOLS:
flat blade screwdriver

spare extractor pin

feed lip gauge for magazine

carbon scraping tool (gas piston wrench on piston model)

bore cleaning wire brush

one oil ampule for a field lube

two retaining clips for firing pins

adjustment tool for the front sight

broken shell extractor

cotton pin hook

adjustment tool for the feed lip

cable to pull wire brush through bore

cleaning tool for gas key

strike plate


Weighing in at a mere four ounces, the Samson Field Survivor will not alter the heft and feel of the rifle or reduce its accuracy. Stainless steel components rest inside a reinforced polymer shell that is nearly indestructible to ensure reliable services for many years.