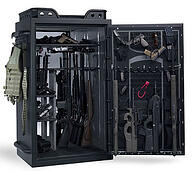 There are a variety of ways to store your firearms safely at home, but none of them are completely foolproof. Every situation is unique, and there are a number of considerations to factor into your choice including budget, accessibility of the firearm, and local gun safety laws.

As always, store ammunition separate from firearms, and ensure that neither are accessible to unauthorized persons.

If you own a firearm for personal protection, then accessibility and safety is critical when not in use. Eleven states currently have legislation regarding the use of locks or firearm safes. Some types of firearms are required to have locking devices. Check with the state and federal laws regarding your particular types of firearms to see how they impact your choice of storage.

The bottom line may be what your budget will accommodate. The following storage options give you an idea of the choices you have for safe storage at home.

Trigger Locks
A trigger shoe fits around the trigger housing of a firearm so it can't be pressed. Cable locks go through the barrel and/or the action so the firearm can't be loaded or fired. A simple workaround is to use a common padlock through the trigger guard behind the trigger so it can't be pressed.

A trigger lock will run you around $15, and while it keeps the firearm from being fired, it offers no protection against theft and is recommended as an additional security precaution to the storage methods below.

Firearm Cases
For $10 to $350 you can have your choice from a variety of soft-sided and hard-sided firearm cases made from plastic or metal. All have some kind of padding to protect the firearm's finish from physical damage, and a few have locks to be used when transporting the firearm. They provide minimum safety and no theft protection.

Firearm cases should only be used to transport firearms or short-term storage such as at a shooting range or while hunting. Firearms should not be stored in cases long-term and should not be put into them while still warm from shooting. Moisture can condense on the material surrounding the firearm, promoting rust.

Steel Firearm Cabinets
This is a popular option to consider for your AR-15 or prize-hunting rifle, as these steel cabinets have thinner walls than a safe, allowing them to be moved by two people. Steel Firearm Cabinets should be permanently mounted to a wall or floor, and most include mounting hardware.There are also a variety of locking mechanisms available.
Unlike most cases, cabinets hold multiple firearms. They can also be moved more easily and cost far less than a firearm safe. They are not, however, fire resistant, and they only provide the recommended minimum of theft prevention. Higher-end models get you close to the cost of a firearm safe.

Firearm Safes
This is the most secure option for your firearm's safety at home, short of building a custom vault. As with firearm cabinets, safes should be secured with the provided mounting hardware into the floor or wall to prevent theft of the entire safe.

Most firearm safes have interiors which can be customized with firearm racks and/or shelving. The most common locking mechanisms are a combination of dial and electronic keypads. However, fingerprint readers aren't unheard of. Various options affect the price of firearm safes, including the locking mechanism, level of fire resistance, number of locking bolts, and construction style.

The NSSF offers free safety kits. For more information through their project childsafe program, visit: http://www.projectchildsafe.org/about
Photo Courtesy of: progunsafereviews.com