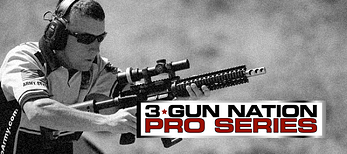 When it comes to 3-Gun Nation, it's all about the support from the firearm industry. It's no secret that 3GN is able to do what it does for professional and amateur-level competition thanks to generous contributions from industry leaders. Once again, Stag Arms has stepped up to the plate and has pledged its support for the 3GN Pro Series and its competitors.
On Saturday, March 15th, the world's best 3-Gun competitors will take center stage at the United States Shooting Academy in Tulsa, Oklahoma as they launch full-throttle into the highest level of 3-Gun competition there is, the 3-Gun Nation Pro Series. The 3-Gun Nation Pro Series is a four-match battle royale to see who can take their shot at winning the 3-Gun Nation Championship.
What's at stake in this match? $10,000 in sponsored cash to the top shooters at the event, all sponsored by Stag Arms.
"Stag Arms continues to support 3-Gun and 3-Gun Nation because we truly believe in growing this sport," said Mark Malkowski, Stag Arms President. "People at home are watching the action unfold on TV and want to see the best of the best competing at the highest level. They want to see professional athletes, and we believe there is a movement of young, new shooters joining the ranks every day. We want to continue to push those aspiring new shooters to compete."
The 3-Gun Nation Pro Series this season will be slightly different from years passed. Each match will consist of 5 stages of fire, and upon completion, the competitors will be paid for their placement and their series points will have been earned. The top 10 shooters will then move into the 6th and final stage for a bonus "dash for the cash". The top competitor in stage 6 will receive a $5,000 cash payday to top off the match.
"We're continuing to adjust our competition program to create the most dynamic and entertaining formula for our fans, while keeping competitive equity in mind," said 3GN President Pete Brown. "The Pro Series is a product for TV, sure, but equally as important is that it remains fair and balanced for professional 3-Gun."
Fans in the Tulsa area are encouraged to attend the event on March 15th The match will begin at 8:00 AM and the stage 6 competition is expected to start at 4:00 pm. The FNH USA 3-Gun Nation TV, presented by Federal Premium Ammunition, will air on the Sportsman Channel as well as on the Pursuit Network in July.
Photo Courtesy: 3gunnation.com