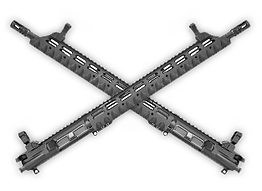 Incorporating the evolution of shooting tactics and rifle accessory technology, we created our Model 3TH-M rifle, and due to popular demand, we are now offering the upper half separately. The Model 3TH-M provides the shooter with an upper half which is readily usable with many of today's shooting styles.

Working with multiple law enforcement agencies, a few of which learned speed and accuracy from our 3-Gun shooting team, we have tested and determined the features and configuration which works best with these new tactics.

Utilizing these upper halves, shooters are able to produce fast and accurate shots from close to long range as is needed in tactical situations and competitions.


Left & Right Hand Versions
The upper half is available in both right and left hand versions and is compatible with any mil-spec lower half. Boasting a 16" free floated government profile barrel with a carbine length gas system, the shooter will be able to use many different gripping techniques when handling their rifle. Aiding in accuracy is the DiamondHead USA handguard, which is free floating and modular, allowing the attachment of rail sections or sling mounts. This also grants the shooter the ability to mount accessories as needed but not be burdened with a full quad rail. Included on the upper half are aluminum DiamondHead USA flip up front & rear sights with their patent pending diamond shape to allow faster target acquisition.

With all of these features, the upper half provides the shooter an excellent rifle to excel in tactical situations. The appeal of the upper half, while aimed at tactical shooters, is not limited to them. The upper half can and will appeal to anyone looking for an accurate, reliable, and modular AR-15 rifle. Utilizing our manufacturing ability, we are able to offer our products to our customers at an extreme value with the high quality we are known for.