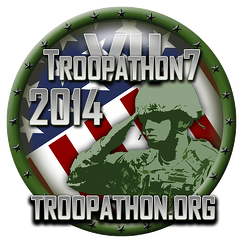 Stag Arms partnered with Move America Forward (MAF), the nation's largest grassroots pro-troop organization, to announce the winner of a huge giveaway to help promote Troopathon 7, a star-studded effort to send care packages to troops in Afghanistan. At the end of the fundraiser, MAF collected $301,626 to support the troops.

To help support Troopathon and send more care packages to the troops, Stag Arms partnered with MAF to give away a FREE AR-15 style rifle valued at over $900. The winner, Wayne Dupree, an 8 year Air Force veteran who lives in Maryland, will be able to choose any one of three available models in left-handed or right-handed configuration.


The Effect of Military Care Packages
"Winning this Stag Arms rifle during Troopathon 2014 was the cake on the table for me, but the icing was gathering social media together and giving them a way to make donations to my military brothers and sisters in the way of care packages," said Mr. Dupree.
"I was in the military for eight years, and I know first hand what a care package will do especially in times when you are lonely or homesick. It is a great honor to help them and win this rifle. While in the USAF, I was an expert with the M-16 and .38 so this is something I will treasure always," remarked Dupree, after being notified that he was the winner of the Stag Arms AR-15 giveaway.
Stag Arms marketing manager David Larson stated, "Stag Arms has always supported our troops, not only through direct discounts on our rifles but also with assisting with service and veteran related charities and holding our own fundraisers. We are proud to have raised so much money to send care packages to the soldiers who are away from their homes and families for months or even years at a time."


How To Get Involved
"Troopathon 7 - Care Packages for Our Heroes" was the 7th annual Troopathon event, an 8-hour long fundraiser bringing together pro-troop movie stars, TV personalities, elected officials, professional athletes, musicians, talk radio hosts and many other supporters to encourage viewers to sponsor care packages for our troops serving overseas through the group's website (www.troopathon.org) or by phone at (866) 866-6372.


About Stag Arms
Founded in May of 2003, Stag Arms LLC is one of the national leading manufacturers of rifles and rifle components. What began as a sister company to a corporation with over 30 years experience manufacturing Aerospace and rifle parts, Stag Arms has grown into a nationwide phenomenon with the introduction of their Stag 15L – the world's first true left handed rifle of its kind. Stag Arms has since grown into one of the largest AR-type manufacturers in the world.