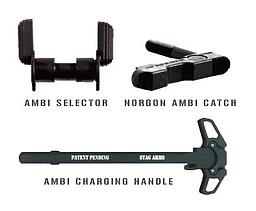 "I'm right handed. Why do I need ambidextrous rifle accessories?" If you're asking yourself this question, you will definitely want to educate yourself on why left-handed or ambidextrous accessories can prove to be extremely beneficial.

Believe it or not, ambidextrous AR-15 accessories and parts are gaining in popularity with right and left-handed owners for a wide range of reasons. You get a lot of performance advantages with left-hand and ambidextrous parts that you won't get with a rifle built strictly for right-handed users. Here are just a few.

Sharing Your Rifle
So you want to teach your kids to shoot, but your child is left-handed? An ambidextrous build ensures that anyone who you want to take to the range will be able to use your AR-15 just as well as you can (well, minus perhaps several years of experience, that is). If rifles are a family hobby, buying a few ambi components is a lot cheaper than buying a whole new rifle.

Accessibility
Being able to operate all the major functions of your rifle from either side of the firearm can be a tremendous convenience. If you want to practice left-handed shooting, ambi parts make that possible. If you ever injure your right hand and worry that you're going to get rusty while waiting for it to heal, you can switch off and stay sharp.

In competition and tactical situations, being able to operate your rifle with either hand can give you a tremendous advantage. The last thing you want to do is forfeit because you just sprained your hand and can't shoot left-handed.

Training for left-handed shooting is just a good idea, anyways. It's challenging and forces you to be a little more aware of certain aspects of shooting that you don't always consider when using the hand that you're more comfortable with, while letting muscle memory take over. It's also just a great way to impress your friends!

Ambi Parts Are Easier To Install Than You Might Think
Ambi and left-handed parts are both easier to install, and they are probably more affordable than you might think. The Ambi Charging Handle can be installed in seconds, while the Ambi Safety Selector and the Ambi Catch can each be installed in less than 5 minutes.

If you prefer to switch off between right-handed and ambi builds as the situation demands, you're not going to be sitting there trying to completely dismantle and reconstruct your rifle all day, and it's not going to run you an arm and a leg to invest in ambi parts, either. For a serious collector, ambi parts are just an affordable way to switch up your style now and then, make your rifle more accessible, and get the most out of your AR-15.

Key Takeaway
Although few right-handed AR-15 owners bother to spend much time thinking about ambi components and accessories, the truth is that knowing how to fire with either hand really can give you an edge in competition, tactical situations, and sport.

In short, it's all about accessibility: being able to use your rifle to its full potential no matter the scenario. Whether that means teaching your left-handed friends to shoot or being able to operate your firearm in either a left or right handed position, ambi parts make your rifle more versatile.