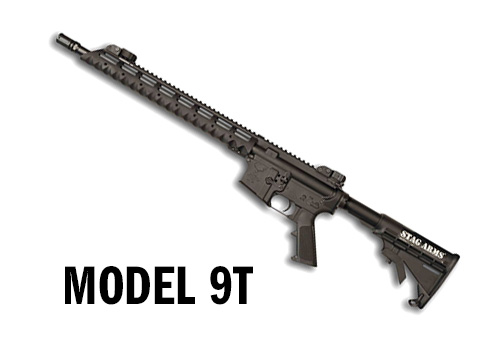 This series has been discontinued. Our latest 9mm PXC series can be seen here: Stag PXC Series
After overwhelming requests from our customers and a long time in research and development, our first pistol caliber carbine is officially being released today. The new Model 9 & 9T series of rifles provide the shooter with a compact pistol caliber carbine on a well known platform.

Compared to the 5.56 cartridge, the 9mm cartridge used in a carbine configuration is the ideal choice for short range & self defense use – up to 200 yards due to decreased muzzle blast, decreased muzzle flash, lower recoil, reduced over-penetration, and a heavier bullet.

An added benefit is that you can also shoot this rifle at most pistol caliber only indoor ranges.

Model 9/9T
Both the Model 9 & 9T series boast a 1/10 twist 16" heavy barrel, blowback action, a 6-position adjustable buttstock, and as always they are available in right & left hand configurations. The safety, charging handle, and magazine release function the same as any AR-15. However we have designed the actions of the rifles from the ground up. The rifles accept standard Colt style 9mm AR magazines which insert into the integrated magazine well in the lower receiver. The integrated magazine well won't come loose or have feeding issues accompanied with drop in magazine blocks. Differences from a standard AR-15 can also be found in the lower receiver with a specially designed hammer, magazine catch, and buffer. In the Upper half, the bolt and carrier are one piece with a modified ejection port cover and brass deflector.


Configurations
The Model 9 and 9T have different configurations. The Model 9 has a railed gas block and drop in Diamondhead VRS-T modular handguard with no sights. The Model 9T is the tactical version with a free floating 13.5" Diamondhead VRS-T modular handguard and aluminum Diamondhead flip up sights for faster target acquisitions. Both rifles will accept the Diamondhead rail sections for extreme customization.

Specifications:
9 & 9L
16" heavy barrel, 9mm chamber, and 1/10 twist rate
A2 flash hider
Diamondhead drop in modular handguard
9mm trigger which has a Mil-spec trigger pull
Carbine buttstock and A2 pistol grip
No sights
9T & 9TL
16" heavy barrel, 9mm chamber, and 1/10 twist rate
A2 flash hider
Diamondhead free float handguard
9mm trigger which has a Mil-spec trigger pull
Carbine buttstock and A2 pistol grip
Diamondhead aluminum front & rear flip up sights