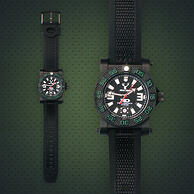 Made to Stag Arms' exacting specifications, we teamed with Reactor Watch to create a watch designed to be durable and rugged enough for tactical situations and good looking enough so it can be worn every day. The watches are $350.00 and are available in our webstore or by calling our sales office at 860-229-9994 x1.

Specifications
The watch includes a low profile black band, bezel, and watch face. The numbers on the watch face and the hands include Never-Dark technology, similar to tritium sights which allows them to be seen even in the darkest conditions. The watch is extremely comfortable, but built rugged with a solid forged case, solid screwbars for the band, a screw down crown, and tested to a depth of 660 feet.
The weight comes in at a minuscule 95 grams, yet the watch boasts a large watch face, a case diameter of 42mm, a thickness of 14mm, and runs off a 10 year lithium power cell.

The watch is in a tactical black color to reduce reflectivity and being seen in general. Unlike a metal band that can cause noise, this band is created to be silent and stealthy, using a combination of high grade woven nylon and rubber. The Stag Arms logo can be found on the watch face, and the numbers surrounding the bezel are in the dark Stag Arms green color.


About STAG ARMS
Founded in May of 2003, STAG ARMS LLC is one of the leading manufacturers of rifles and rifle components. What began as a sister company to a corporation with over 30 years experience manufacturing Aerospace and rifle parts, STAG ARMS has grown into a nationwide phenomenon with the introduction of their Stag 15L: the world's first true left handed rifle of its kind. STAG ARMS has since grown into one of the largest AR-type manufacturers in the world.